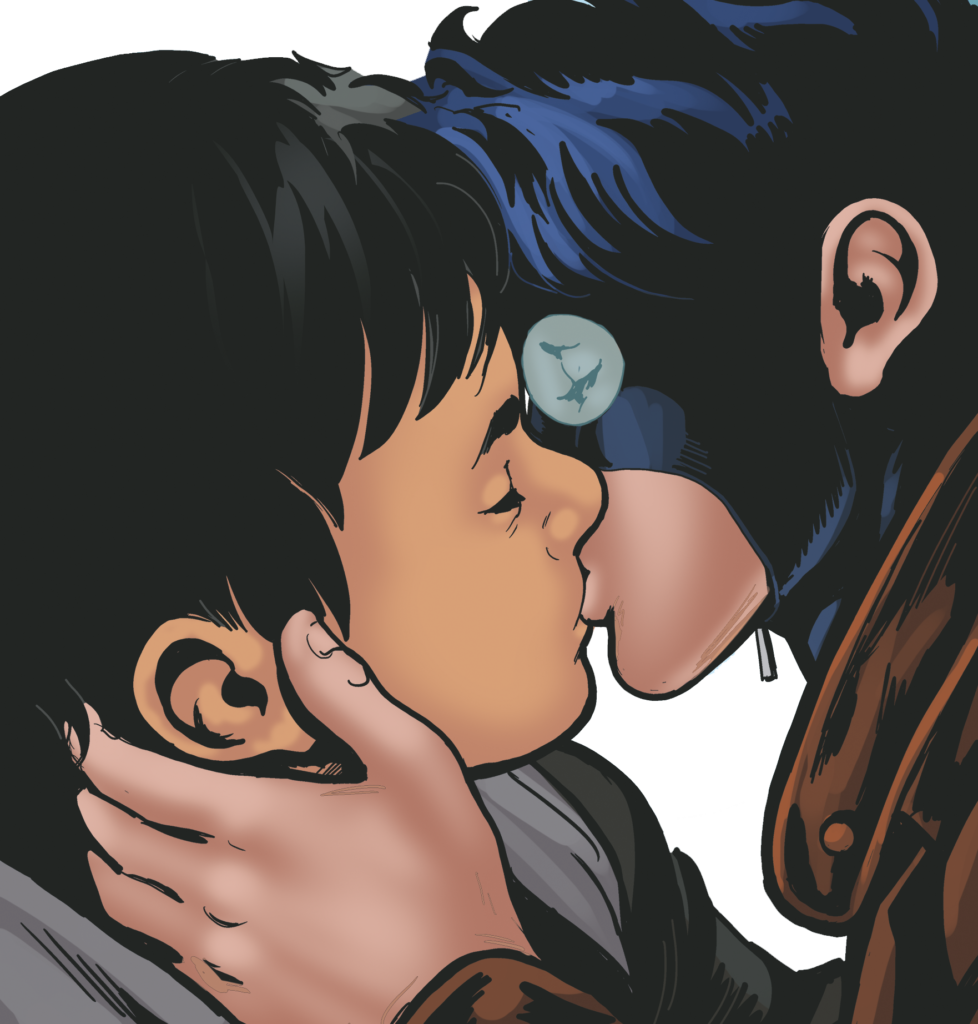 What you're going to get on my email tour!
First, make sure you click the link in the Confirmation Email!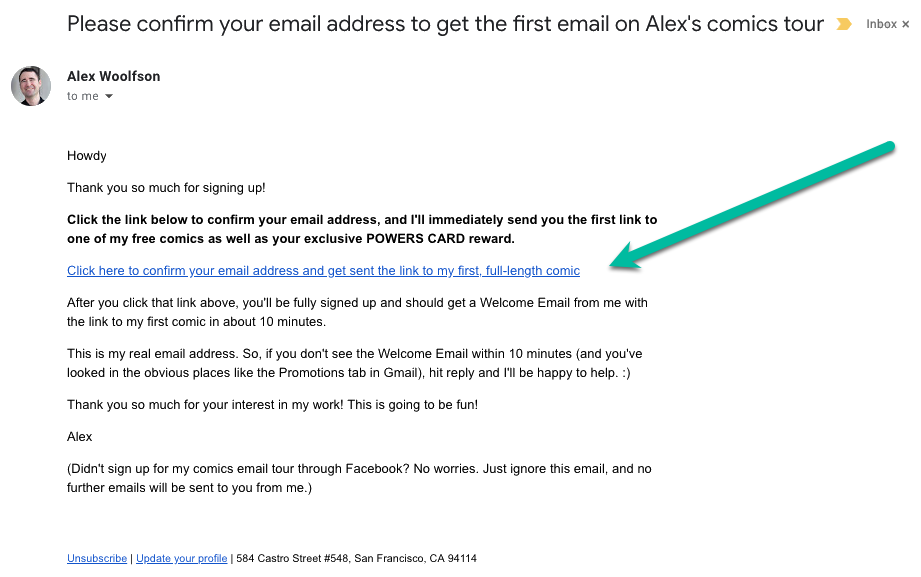 You've just been sent an email with the subject line "Please confirm your email address to get the first email on Alex's comics tour" You actually aren't signed up for this email tour until your CLICK the link inside this "Confirmation Email."
Once you've done that, you'll be sent a Welcome Email with the subject line "Yay! You're in!". And that email will contain a link to read my first free comic!
(That email also contains a link to download an exclusive PDF reward, as a special thank you for signing up!)
The next day, you'll get an email where I introduce myself. And then, after that, you'll get an email every few days with either a link to another free comic or a fun story about the making of that comic, until I've introduced you to all 800+ pages of my comics you can read for free!
What if you don't see the Confirmation Email?
If you are looking for the Confirmation Email and don't see it after 10 minutes at the email address you entered, copy-paste "Woolfson" into the search box of your email program to find it.
And then go here for a quick and easy fix to make sure it won't get hidden again!
Click here for Alex Woolfson's Whitelist Instructions. 
And if you have any problems, you can email me using this form. I'm happy to help!
Curious to know more about
what to expect? Read on!
What You Get For Joining This Short Email Sequence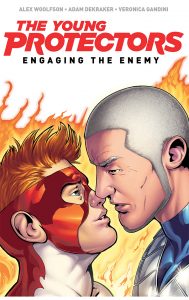 You get sent links to over 800 pages of free, full-color comics with gay heroes. Not just previews or teasers, but the whole comics!
You can also get a pack of full-color, glossy 11″ x 14″ prints with those gay heroes—a $15 value—for 100% off! Just pay for shipping and it's yours!
(And I'll even tell you how to get free shipping!)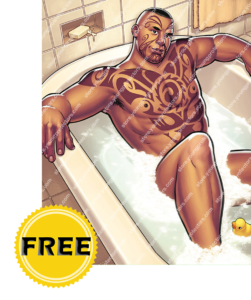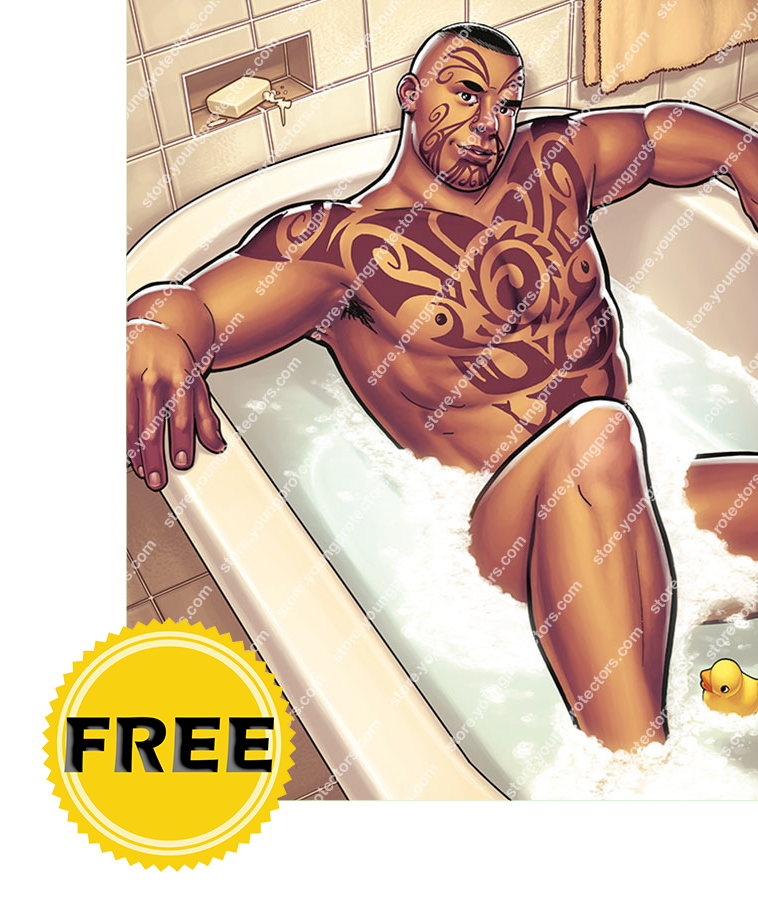 Want to know the secrets of gay superheroes?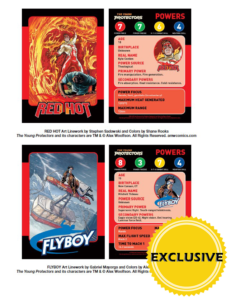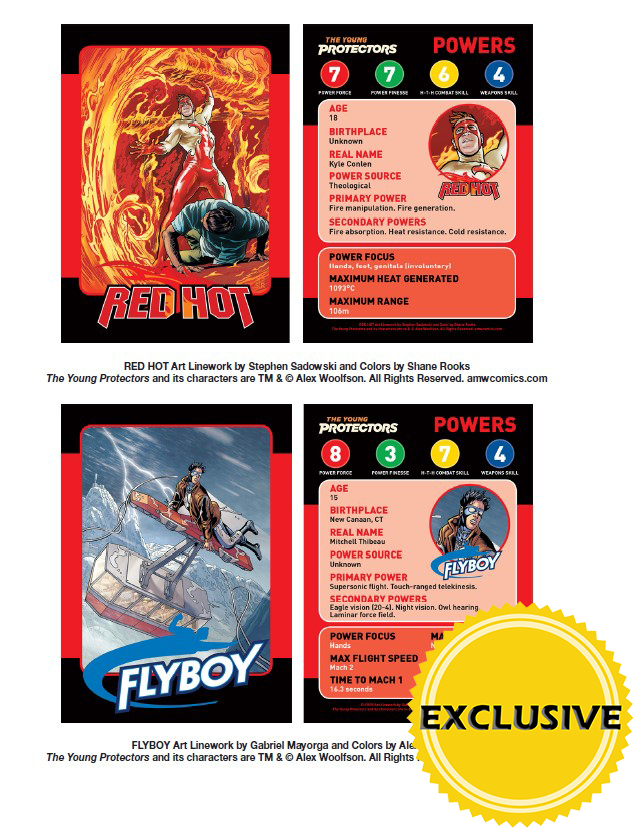 You'll immediately get to download an exclusive PDF with gorgeous art and government-classified information about each of my superhero character's powers—a complete digital copy of one of my hugely successful trading card packs, and something only available to subscribers of this list!
You'll get behind-the-scenes information about how each of the comics came together AND my adventures as a gay comic book creator.
(Including what happened when an unsuspecting mother started flipping through the sexy parts of one of my books at my first major Comic Book Convention, and decided to give me a piece of her mind!)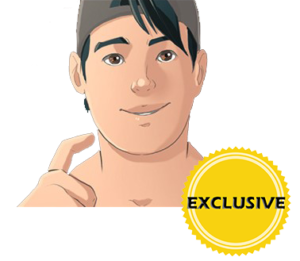 Crave kick-ass books with gay heroes?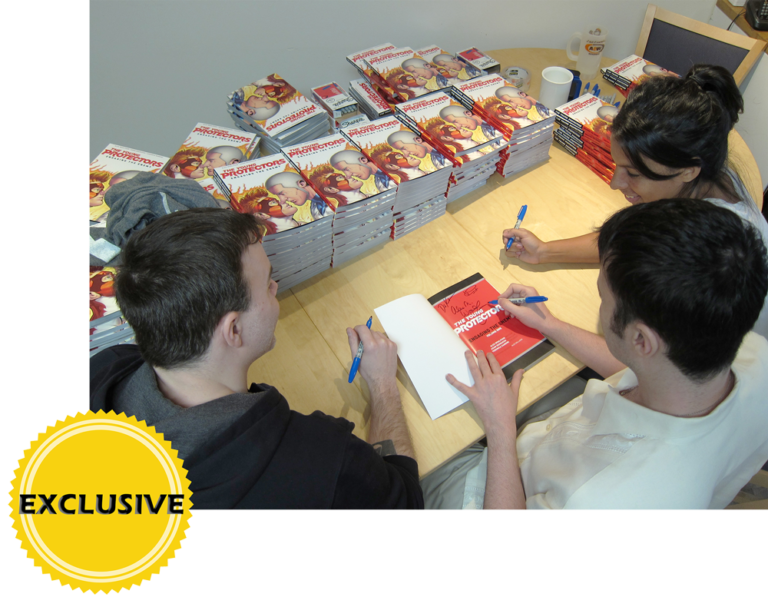 I raised over $150,000 on Kickstarter so I could print these comics with the highest quality possible. As a subscriber of this short email Introduction sequence, you'll get exclusive discounts for my books, not offered anywhere else!
Want to support this kind of work?
The more readers my comics have, the more I can do. By signing up for this list, not only do you get a bunch of awesome rewards, you'll also be sending out a message to the world that stories with gay heroes matter and that we need more of them!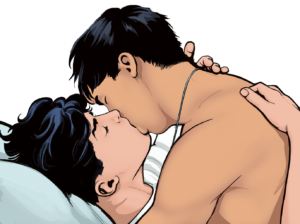 What do our readers have to say?
"This is by far one of the greatest things I've read! The story was clever, enticing, and it was set up magnificently! A breath of fresh air compared to most of the gay fiction out there. And the characters were so lovable despite the short time we had to get attached to them! Not to mention the breathtaking art!"
– N.
"I just wanted to say how much I've loved Engaging the Enemy, how much I am looking forward to the future of the Young Protectors, but mostly how this comic has made me feel as a gay guy who never had heroes like this growing up, I really, really appreciate it and it makes me feel so normal and a part of something… Much love!"
– Xavier M.
"I've recently been starving for LGBTQ and M/M romance story lines. I had no idea the level of craftsmanship and depth I would find. I'm utterly mind blown! I started with YP and now finished Artifice… I didn't want them to end."
– Ricardo G.
"In a world of disposable "entertainment" THE YOUNG PROTECTORS is a huge present. You gave me the book I desperately wanted as a closeted 15 year-old gay boy."
– Christopher D.
"Great story! This definitely stands out from the crowd, a real gem. I'm happy to see a well written and thought out plot, that isn't just pointless smut, but a story where you can actually feel for the characters."
– Lumi L.
"I've loved every bit of this story…. all the feels…the twists and turns no one saw coming no matter how hard we watched out for them…the wonderful artwork and the realism of the characters. Can't wait for the next arc."
– TwilightDreamer
"I just -loved- it. It was intense, made me hold my breath, tear up, the works."
– BatSpork
"Congratulations, you and Winona made the best webcomic I have ever read"
– Pronombre
"Comic fans who love sci-fi, action, and gay romance won't want to miss Alex Woolfson and Winona Nelson's new graphic novel Artifice. Not only because the story features gay protagonists, but because the comic portrays their relationship as completely normal."
"...the narrative grips the reader from the first panel to the last, treating the audience to a moving rumination on love, free will, sexuality, and the question of whether a machine can feel. Woolfson and Nelson cover this familiar territory with fresh eyes, bolstered by solid artwork; it's an emotional winner that deserves notice."
"[The Young Protectors is] a glorious book, beautifully produced, and Alex and Adam (and Veronica Gandini, who did the coloring) have done an amazing job."
Hi! I'm Alex Woolfson and I'm the writer and publisher of these comics. As a gay kid growing up, I never got to see what I wanted to see, and that was science-fiction and action stories with heroes, real heroes, who just happened to like other guys.
So, after a successful career as a filmmaker, that's why I started making these comics.  In particular, I wanted to make comics that were just as good as what the straight boys get, but for us. And now, with the support of readers like you, it's my full-time job!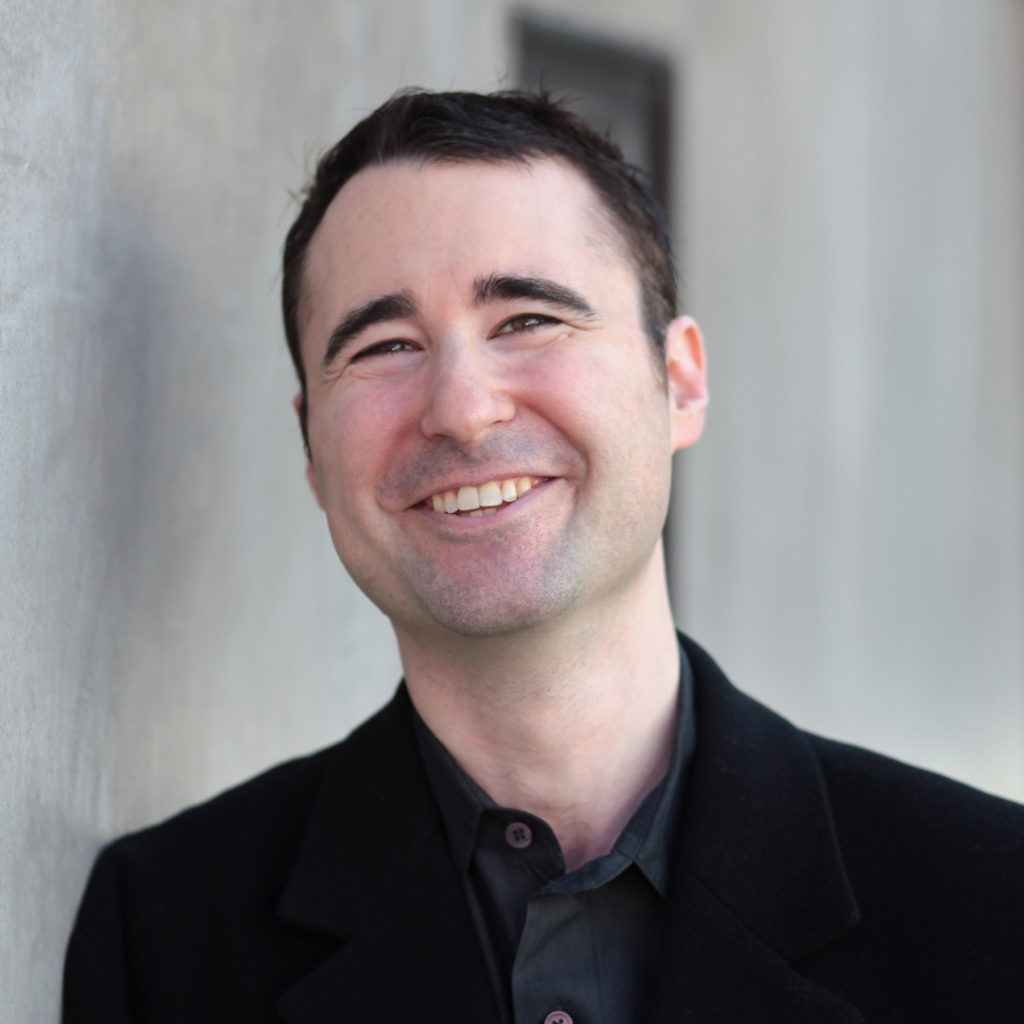 I write the scripts and art direct all the stories, and I keep the lights on around here.
And I've hired some of the best artists in the industry to create these pages.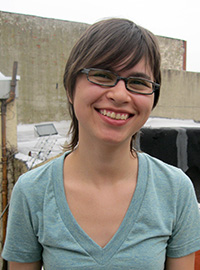 Winona Nelson, artist for the graphic novel Artifice, has worked in comics, video games, and illustration for over ten years. She trained in classical realism applied to entertainment art in San Francisco and worked in video game studios before going freelance. She now focuses on comics, fantasy and science fiction book covers, and card game art.
Adam DeKraker is an illustrator and comic book artist living in Brooklyn, NY. Throughout his career, he's had the opportunity to draw lots of stories starring his childhood heroes like Superman, Spider-Man, The Legion of Super-Heroes, and The Teen Titans.
He creates all the gorgeous linework for the main arcs of The Young Protectors.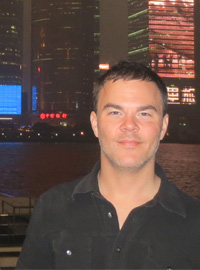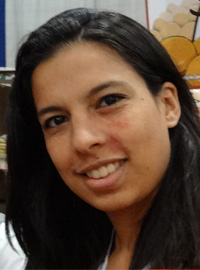 Veronica Gandini is a comic book colorist from Buenos Aires, Argentina. Nominated for a Harvey Award for Best Colorist in 2011, she has colored series such as Spider-Man and X-Men for Marvel and, most recently, Red Hood and the Outlaws, Batman and the Outsiders for DC Comics and Captain Ginger for Ahoy Comics.
She creates all the stunning colors for the main arcs of The Young Protectors.
Then email me! I use my real email address with all the emails I send out, so you can just reply directly to one of those and I'll be sure to see it. Or you can email me using this form. I'm always happy to help!