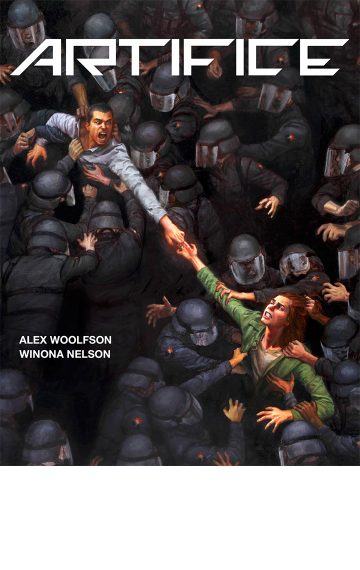 Award Finalist
$19.99
Publisher:

AMW Comics

Available in:

Paperback and Kindle

ISBN:

978-0985760403
Buy Signed Copy
Buy Kindle Version
SYNOPSIS: Deacon, a prototype android soldier, was ordered by his corporate masters to eliminate a team of scientists who knew too much and he has failed spectacularly. Not only did he let one of his targets live — 19-year-old human outcast, Jeff Linnell — he attacked the team sent to retrieve him. Now the Corporation demands answers and they have employed the brilliant and ruthless robopsychologist Clarice Maven to get them.
Deacon seems desperate to conceal the shocking events that took place on Da Vinci 4, but what chance does he have fighting an adversary who can control his every move?
"…the narrative grips the reader from the first panel to the last, treating the audience to a moving rumination on love, free will, sexuality, and the question of whether a machine can feel. Woolfson and Nelson cover this familiar territory with fresh eyes, bolstered by solid artwork; it's an emotional winner that deserves notice."
– Publishers Weekly
"Comic fans who love sci-fi, action, and gay romance won't want to miss Alex Woolfson and Winona Nelson's new graphic novel Artifice. Not only because the story features gay protagonists, but because the comic portrays their relationship as completely normal."
– The Advocate
(Artifice was also listed by The Advocate as one of the Top 5 LGBT Graphic Novels of 2013!)
"I really loved ARTIFICE – it's the kind of story that would have meant everything to me as a teen reader, and even as an adult, this gay-positive sci fi graphic novel made me so happy. I actually intended to just read the first page or so (since I didn't have a lot of time) and ended up reading it through to the end, everything else pushed aside. Just like the best sci-fi and fantasy books did for me when I was a teen, reading with a flashlight under the covers until 3 or 4 in the morning, when my Dad would get up and I'd have to fast-pretend to be asleep!"
– I'm here. I'm queer. What the hell do I read?
"As I hold a copy in my hands, I can assure you that the beautifully bound graphic novel is printed with quality, its glossy cover and thick pages making it the kind of book you'd willingly add to your coffee-table collection. It's a gorgeous work of art…"
– Fenuxe
Finalist in the Graphic Novel category – 26th Annual Lambda Literary Awards
8.5″ X 11″ Full Color Paperback. FOR MATURE READERS